HP Indigo 12000 HD Digital Press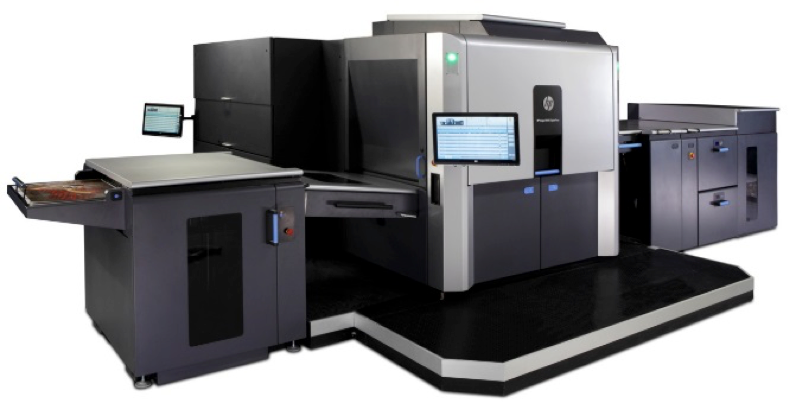 7 Colors Digital Offset Press   4 to 7 Colors
Sheet Size   29.5 x 20.81
Image Size   29.1x 20.1 maximum
Image Resolution   Addressability: 1625 DPI (virtual 4876 x 4876 DPI) Rip: 812 DPI at 8 bit
Line Screens   175, 220, 250, 290 LPI, HMF-200 
Standard 4-color printing   Cyan, magenta, yellow, and black
HP IndiChrome Plus 7-color printing   Cyan, magenta, yellow, black, orange, violet, and green
Special effect inks   White, light cyan, light magenta , light light black, fluorescent pink, rhodamine red, bright yellow, and transparent
PANTONE® colors  97% of PANTONE® colors
Wide media range
Print on virtually any substrate, from 50 lb text to 150 lb cover, 3-18 pt thick—including coated, uncoated, colored and dark papers, and paperboard for folding cartons—in an unlimited variety of paper sizes down to a minimum size of 20.1 x 11.7 in. One Shot technology transfers all color separations in one pass onto the substrate with perfect registration, expanding printing capabilities to specialty substrates such as canvas, synthetics and metalized media.
Variable Data and Images
Unlimited designs. Automate the creation of millions of one-of-a-kind designs with HP SmartStream Mosaic variable design technology, now including color shuffling capabilities for sophisticated, high-value products.
Special inks
Transparent ink watermarks and high-impact fluorescent ink applications
Achieve professional photo quality with Light Light Black, Light Cyan, and Light Magenta inks
Featured Product
With professional design and printing, our brochures are sure to sell. From the big idea to the small details, our team has years of experience to get the job done.

When it's time for the big event, put your brand on center stage. Team up with us to create your trade show display, and make every second count.

A big area calls for a big statement. And that's exactly what we deliver with every banner we print.