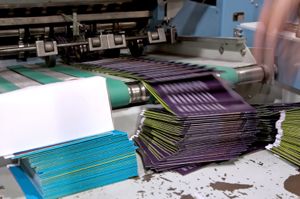 Our team approach to client service at GAS starts with your salesperson and flows through our production staff and each department as we work together to do what it takes to meet and beat all your expectations. Communication, expert job planning and performance are what keep our clients satisfied. Serving our clients is what keeps us satisfied.
Our Customer Service Center provides clients with 24-hour access to our services. From here you can request an estimate, place an order, transfer a file, or review a proof, all from the convenience of your office or home.
We want to make the process of doing business with us as easy as possible. That was the whole point of building this website in the first place. Just select your destination from the provided links to get started.
Featured Product
With professional design and printing, our brochures are sure to sell. From the big idea to the small details, our team has years of experience to get the job done.

When it's time for the big event, put your brand on center stage. Team up with us to create your trade show display, and make every second count.

A big area calls for a big statement. And that's exactly what we deliver with every banner we print.