Departments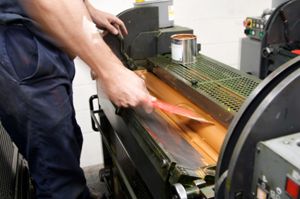 In working with us, you'll find that our company is not overly regimented. Everyone understands their role but is willing to help out wherever needed to see a job through. You'll never hear a member of our staff say, "that's not my job."
Though we believe whole-heartedly in this open approach, it's necessary to separate our company into a few departments. Whether it's Customer Service or production, it takes everyone we have to make our clients look their best.
Production/Estimating

Whether you need 500 business cards or 50,000 annual reports,our sales staff communicates your project to our estimating department to provide quick and accurate quotes as we begin the process of engineering a solution to producing your job on time and within budget.

This estimate is the blueprint for our skilled production team to properly plan and produce your unique project. The complex nature of changing schedules and expectations requires a skilled and flexible production team that is sensitive to your needs from start to finish. Communication is the key to getting your job done right the first time – every time!

Prepress/Color/Proofing

For over 33 years, we have provided the finest craftsmanship in color and retouching. Whether we scan your original prints and transparencies or enhance high-res digital imagery, our pre-press and color departments combine artistry with the technology and know-how to enhance any image. The result: consistent color magic that gets the most out of your one-color halftones or your four-color process work.

Our 24-hour work cycle allows us to provide fast and accurate proofs the following day. Our Hi-Res Color Final and Confirming Color Laser Proof systems give us the flexibility to proof your project on multiple substrates. We can accurately reproduce any PMS or match color (including metallic's) along with your 4-color process printing. With the latest in calibration software, we can ensure what you are seeing on our color proof will match our printed sheet.

Presswork/Bindery

Our technology extends beyond pre-press into our pressroom and bindery. We have the finest printing equipment the in the industry.

Our skilled pressmen combine craftsmanship and expertise with our state-of-the-art direct-to-plate technology to produce high quality, one-through six color printing.

We can add a variety of in-line coating options to complete your print run. Join us for a press check or let us match your pre-approved proof during our 24-hour workday. Our bindery will complete your project as we follow through on the blueprint and finish the final steps to move your job along. Cutting, folding, expert die-cutting and complex bindery operations are handled seamlessly by our skilled staff and trusted vendors when an outside service is needed.

Digital/Grand Format/Offset

In addition to our traditional capabilities, GAS has the latest technology/equipment to produce digital print on demand, including Grand
Format and web to print.

Mailing/Fulfillment

Our mailing and fulfillment departments can provide the final touch to completing your project.

Whether it's hand-assembled folders or complex mailings or pack outs and drop shipping to multiple locations, our twoshift fulfillment and shipping department will get your project delivered on time. We can also manage your mailing list, including mail merge and customization on your printed piece.

Our in-house fleet of delivery vehicles provides daily local deliveries and computerized Shipping systems. Our commercial trucking options allow us to provide you with real-time information on your packages and shipments as we complete the delivery of your project.
Featured Product
With professional design and printing, our brochures are sure to sell. From the big idea to the small details, our team has years of experience to get the job done.

When it's time for the big event, put your brand on center stage. Team up with us to create your trade show display, and make every second count.

A big area calls for a big statement. And that's exactly what we deliver with every banner we print.